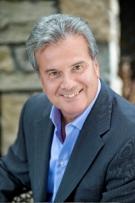 Harris Anastasakis
Sales Representative
Phone: 905.825.7777
Mobile: 905.330.3648
With over 22 years as a Professional Realtor I bring experience,integrity and value to the negotiating table. With over 40 awards from the Toronto Real Estate Board, Royal LePage and Coldwell Banker, I have a proven track record of working diligently to get the best value for my clients. I invite you to be my next satisfied client!
Whether you are looking to buy or sell your property, you want your transaction to go smoothly, and be hassle free. That means finding your dream home, or selling your property promptly, for the best price. It means not having to worry, it means staying informed, in short, it means working with a Realtor you Trust. 
If vacation or income properties are of interest to you I also have a number of listings available in Greece, picture your home away from home in Santorini, Mykonos, or Crete!
As an addition to my Real Estate career, I have been involved with Builders and renovators for over 30 years. Combine that with the fact that I am married to a Designer, and it should come as no surprise that we also offer to build custom homes for our clients when needed.
Call us today to discuss the best avenue for your next Home !
Visit our Houzz page